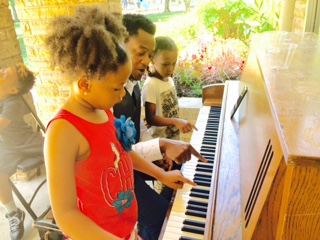 At Make Music Chicago we believe everyone has a musician inside themselves. Find yours by dropping in at one of our Pianos in the Parks for a free introductory lesson. If you've never played before but want to try it out you can stop by during one of the scheduled times. Both kids and adults are welcome!
The lesson schedule for summer 2023 will be announced in the spring.
You can also drop into free introductory lessons on guitar, ukelele, harmonica, steelpans and more as part of Make Music Chicago on June 21st! See our play-alongs page for details.
Have some experience already? Check out our play-alongs!