Every summer, the national Make Music Alliance creates projects that bring together Make Music Day
 

cities from across the country.  Explore below to see which projects Make Music Chicago will be joining.  Please contact us at mmc@imfchicago.org if you are interested in taking part in one of these projects.
FAIRE LA FÊTE: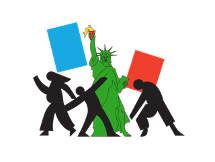 Every year since 1982, France has hosted an event known as Fête de la Musique, one of the country's most important national holidays. Nationwide, millions of people take to the streets to make music together and celebrate all forms of music making. 
To honor the 40th anniversary of the holiday, the Make Music Alliance is organizing a series called Faire La Fête with 40 concerts in 40 countries on June 21, 2022. Each concert will feature music by French songwriters and composers, and all concerts will be free to the public and in front of a live audience. These performances will be live-streamed and sent out into the world on June 21st!
FLOWERPOT MUSIC
Music can come from anywhere on Make Music Day June 21st. Flowerpot Music, written by celebrated composer Elliot Cole and directed by percussionist Peter Ferry, is a composition for an unlikely but beautiful percussion instrument– the flowerpot! Groups around the world assemble in parks, fields and public squares, to learn and perform the piece specifically composed for Make Music Day.
Flowerpot Music returns in 2022! Join a group and create outdoor soundscapes through easy-to-learn games, appropriate for musicians and non-musicians alike.
MASS APPEAL
For the 14th year, Make Music Day 2022 features Mass Appeal, bringing together people of all levels and ages to make music in large, single-instrument groups.
Not quite a lesson or jam session, Mass Appeals are a special type of music making and anyone can take part! In many cases you don't even need to bring an instrument!
#MY SONG IS YOUR SONG
This Make Music Day, artists around the world are invited to the third annual global song swap! Learn a song by another artist and hear yours covered in return. Songwriters, composers, and bands of all styles and walks of life are invited to participate.
Registration closes May 20th and in early June participating artists will be paired together. They have two weeks to learn their partner's song and make it their own before sharing their videos on June 21st!
SOUSAPALOOZA
Since 2011, Make Music Chicago has pioneered the "Sousapalooza" – an invitation for hundreds of brass, wind, and percussion players to come together and sightread the music of The March King, John Philip Sousa.
After a couple of years off during the pandemic, Sousapaloozas will return in 2022 in cities around the U.S. Download the music, bring your horn, and join the band!
2022 Sousapalooza Repertoire (click to download):
Bell of Chicago
El Capitan
Fairest of the Fair
Hands Across the Sea
Liberty Bell March
National Game
Semper Fidelis
Stars and Stripes Forever
The Thunderer
Washington Post March
THE AMERICAN SONG
The American Song is a Make Music Day initiative to capture the stories and experiences of ordinary people from around the country. For two years in 2022 and 2021, the Make Music Alliance lined up fifty people of all ages with a story to tell, one in each of the 50 states, along with fifty professional songwriters in a variety of styles.
On the morning of June 21st, each songwriter video-chatted with one interviewee for an hour. In the afternoon, they wrote a song inspired by their conversation. This year for Make Music Day 2022, The American Song will become a live, in-person event at The NAMM Show in Southern California! Songwriters will interview randomly selected attendees to learn about their lives, then come up on stage 24 hours later to play a brand new song inspired by their conversations.
YOUNG COMPOSERS COMPETITION