SHARING LIVE MUSIC WITH OUR MOST ISOLATED NEIGHBORS

   
Make Music Chicago is pairing musicians with nursing homes to help bring music to those who are most vulnerable and especially isolated during this time. Residents who'd like a serenade will place a Make Music Chicago flyer inside of their window. Musicians will travel to nearby nursing homes, scan the building's facade for flyers, and stop in front of each one to serenade the residents from outside the window. 
2020 Participating Nursing Homes
Aperion Care International
Aperion Care Midlothian
Aperion Care West Ridge
Aperion West Chicago
Arden Courts of Glen Ellyn
ManorCare Health Services-Palos Heights East
The Grove of Northbrook
The Grove of Skokie
The Grove of St. Charles
2020 Participating Artists
5th Wave Collective
Chris Burdick
Matthew Burrows
Annie Chung
Catie Hickey
Carol Jarzyna
Lewis & Melissa Kirk
Becca Lucas
Debra & Ryan Miller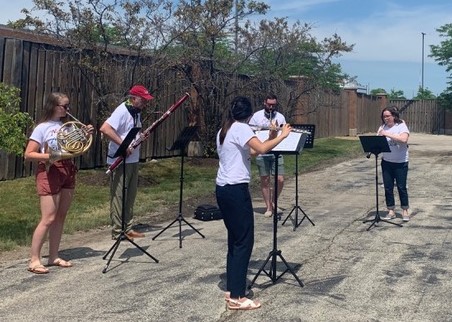 "Just returned from performing Window Serenades at The Grove of Northbrook.  We were told that every one of the residents had expressed interest in hearing a serenade!
With instruments and stands in hand we settled in front of each window and performed a few duets, from Bach to the Beatles moving around the entire facility room by room. It has been months since the last time we played a concert for anyone and it gave us both tremendous joy.  
The residents enjoyed the music and so did the healthcare workers who came out to listen. Healthcare worker Kayla said she had never heard music like that before. She told me it went straight to her soul. Amen!"
~Melissa Kirk