Every summer, the national Make Music Alliance creates projects that bring together Make Music Day
 

cities from across the country.  Explore below to see which projects Make Music Chicago will be joining.  Please contact us at mmc@imfchicago.org if you are interested in taking part in one of these projects.
FLOWERPOT MUSIC
Music on June 21 can come from anyone, anywhere, and anything – even flowerpots.
Flowerpot Music, written by award-winning composer Elliot Cole and directed by percussionist Peter Ferry, is a composition for an unlikely but beautiful percussion instrument – the flowerpot! Bell-like tones are passed from performer to performer in improvised gestures called "blooms" that sweep through the group. The piece is written in simple prose, and can be performed by non-musicians and musicians alike.
Groups around the world will assemble on June 21st, with safe social distance, to premiere a special version of the piece "Flowerpot Music: Make Music Day book.  Sign-up here
GLOBAL LIVESTREAM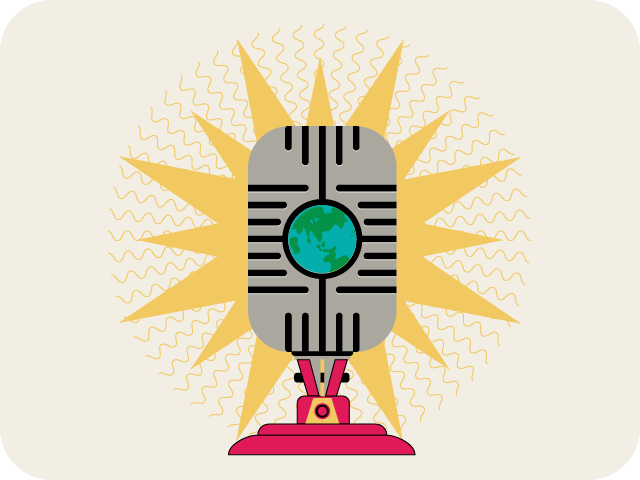 On June 21, music rings out simultaneously across more than 120 countries. Whether you are beneath a skyscraper in Beijing or along the shore of a small Greek fishing village, you will find people making music.
In 2021, for the third year, the Make Music Alliance is organizing a day-long video stream on June 21 showing the rich diversity of Make Music Day events around the world.  SIGN-UP HERE
GLOBAL FOLK EXCHANGE
Global Folk Exchange – Share a folk song from your country, and learn and perform a folk song from across the globe on Make Music Day. Several of you have asked if you can participate in #MySongIsYourSong if you don't write your own music. This project is your chance! The song swap for global cultures. Register by May 23!

In 2021, for the third year, the Make Music Alliance is organizing a day-long video stream on June 21 showing the rich diversity of Make Music Day events around the world.  Check back later to find out how you can be considered for this year's livestream.
INTERNATIONAL DRUM BATTLE
Think you have what it takes to be the best in the world? Join the Make Music Day International DrumBattle. Hosted by the Organisatie van Muziekverenigingen in Fryslân, Netherlands, this event will bring together drum and percussion groups of all ages from around the world, celebrating our rich cultural diversity. Let's show them that Chicago is no "second city" when it comes to drumming!
LEAF MUSIC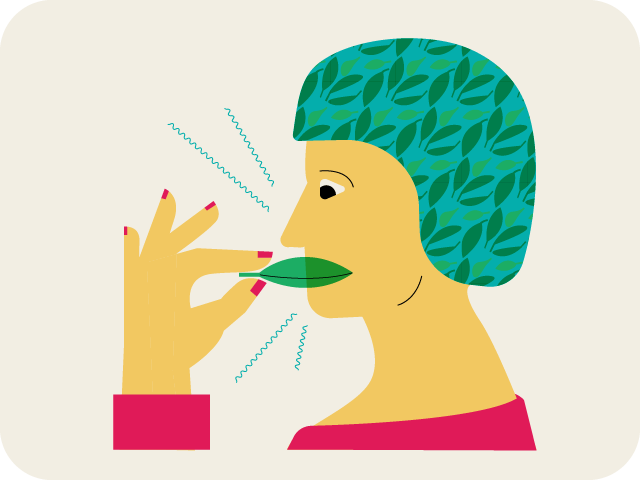 All around us, an exquisite musical instrument is hidden in plain sight: the leaf.
In the hands of a master player, a humble tree leaf becomes a reed instrument like no other. Leaf playing has a long history in many nations around the world, including China, Cambodia, Australia, Brazil, Japan and Nepal. This Make Music Day we invite music fans everywhere to find their favorite tree and try the world's most common uncommon instrument.
Leaf Music programs on June 21 will include an International Leaf Music Symposium over Zoom (starting at 9:00am EST), a Track Meet featuring leaf musicians, and instructional videos to help you turn your own greenery into a symphony of sound.
For more details and to check out a preview from Korean artist Pulkebi, who will be featured in the Symposium, go to https://www.makemusicday.org/national-projects/leaf-music/
MIXMASH STUDIOS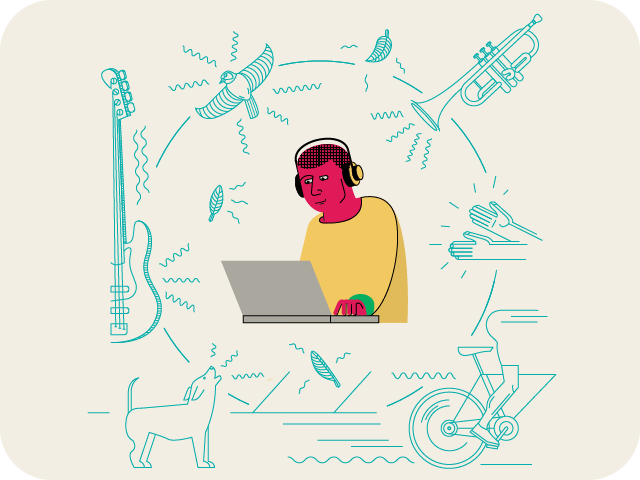 MixMash Studios brings together music makers and sound samplers from across the globe to create new and imaginative compositions. MixMash Studios will invite people around the world to contribute samples between June 6 – June 20, 2021—recordings of bass lines, barking dogs, vocals, machine noises, or anything else they find intriguing.
Then, on Make Music Day, producers will have 24 hours to create an original piece of music using only the samples provided, and nothing more. Some producers will take on the additional challenge – and glory – of livestreaming their production process and creating a finished track in just one hour! MixMash Studios is a collaboration between the Make Music Alliance, Make Music Day UK, and Make Music Australia.
To register for this summer's MixMash Studio and to hear last summer's compositions, including those by prominent Chicagoans — sound artist Eric Leonardson and producer Rob Smooth — go to https://www.makemusicday.org/national-projects/mixmash-studios/

MUSIC LESSON MARATHON
In addition to the many workshops and lessons offered by teachers in the Chicago area, the national Make Music Alliance has also assembled national brands and partners who will be curating day-long marathons of live, free, online group lessons taught by dozens of master musicians on a wide array of instruments. Jump around to sample different instruments, or binge on your favorite! There will be offerings for all ages, and all skill levels – from beginning to advanced.
Lesson partners will include Dance Music Initiative, Flight Ukuleles, Hohner Harmonicas, Music Teachers National Association, Nuvo Instruments, and more to come! Check back here in June for more details on the offerings, and links to register and join!
#MY SONG IS YOUR SONG
Artists around the world are invited to the second annual global song swap! Learn a song by another artist, and hear yours covered in return. Songwriters and composers of all styles and walks of life are invited to participate.
In early June, participating artists will be paired together, carefully selected based on the registration form. They'll have two weeks to learn their partner's song, and make it their own, before sharing their videos on June 21st!  
Starting May 1st, go to www.makemusicday.org/songswap to register.  Registration closes on May 31st.  
To hear a sample of last year's covers, including one by Chicago's own Sarah Coco, go to https://www.makemusicday.org/national-projects/mysongisyoursong/.
THE AMERICAN SONG
For Make Music Day 2020, 50 songwriters were invited to capture the stories of ordinary people from around the country and write a song about them in a single day. On the morning of June 21st, each songwriter video-chatted with one interviewee for an hour. In the afternoon, they wrote a song inspired by their conversation. That evening, they did a second video-chat with the interviewee and gave a live, private performance of the song they wrote.  To see these performances, go to https://www.makemusicday.org/national-projects/the-american-song/. 
For 2021, An American Song welcomes Illinois composer Michelle Isaac as she tackles this unique songwriting challenge.
TRACK MEET
Join composers, producers and songwriters from around the world in the second annual collaborative race against the clock.
Over the course of six hours, teams of four musicians will create brand new original tracks in a creative relay. Using the virtual audio workstation 
SoundTrap
, each musician will get exactly one hour to add their contribution before the next teammate takes over. At the end of the day, we will bounce each team's

track

and host them online for everyone to hear.
This year,

Track

Meet

will feature a special instrument: 
the musical leaf
! Each team will begin their collaborative relay with a pre-recorded

track

by an expert leaf player, layering their musical contributions on these unique beginnings.
Interested in joining in? Check back here,
registration opens May 15th
!
THIS MOMENT IN TIME
The world has endured a tragic year. Millions have died from COVID-19, and social, cultural, and economic life has been curtailed everywhere.  With vaccinations accelerating, life in many places is on the road back to normal. But before life can feel truly normal, we must memorialize the devastation of the past year.  This June 21st, Make Music Chicago joins cities around the world in performing This Moment In Time.
Around the world, gongs traditionally mark a moment in time – whether announcing Napoleon's funeral procession, the arrival of a Chinese dignitary, or the serving of dinner in a British mansion.  At noon in the Cancer Survivor's Garden in Maggie Daley Park, percussionist John Yost and his colleagues will lead this gong immersion.  For everyone joining or witnessing this event, This Moment In Time will mark the losses of the pandemic, but also the beginning of a new era.
WINDOW SERENADES
Window Serenades share the joy of live music with isolated elderly people, bringing solo musicians or small groups to play outside nursing home windows for those who request a song.
Created as a socially-distanced program in 2020 to provide safe musical performances during a global pandemic, Window Serenades is becoming an annual Make Music Day tradition, relevant for anyone who is isolated and needs live music in their life.
To see last year's participating musicians and residences, go to https://makemusicchicago.org/windows-serenade/
YOUNG COMPOSERS COMPETITION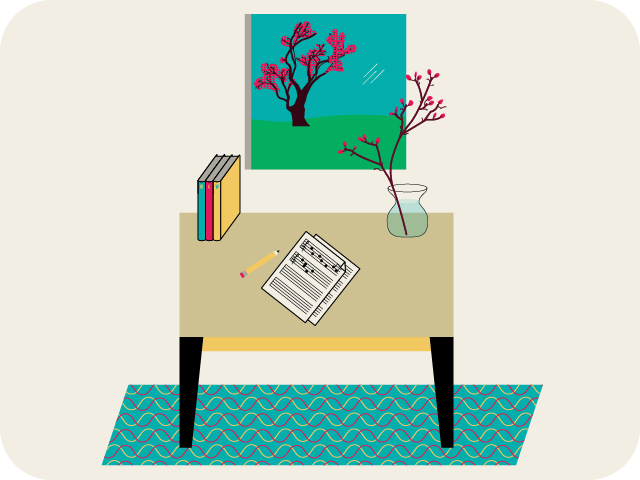 For the second year, in celebration of Make Music Day, the Make Music Alliance is hosting a composition contest for composers aged 13-21.
In 2021, in commemoration of the 100th anniversary of the Tulsa Race Massacre of May 31 – June 1, 1921, young composers are invited to write a song for an overdubbed, a cappella baritone singer, using text from a first-hand account of the massacre by B.C. Franklin, and submit it by May 31st. 
A panel of distinguished judges, including composers Hiroya Miura and Trevor Weston, composer/conductor Francisco Núñez, and soprano Talise Trevigne, will provide feedback and select 3 winning pieces.
These pieces will be professionally recorded by baritone Christopher Herbert and released online for Make Music Day on June 21st. Winning composers will also receive a free copy of Finale music notation software, courtesy of Make Music Inc.
For entry details and deadlines, go to https://www.makemusicday.org/national-projects/young-composers-contest/.