NEED SOME INSPIRATION?
If you're curious to learn what Make Music Chicago's all about, you're in the right place! Check out the features below, read some of our press coverage, or browse our photo and video galleries to get a feel for the wide variety of music-making that takes place every year on June 21st.
LIFT EVERY VOICE
Musicians Rising for Racial Justice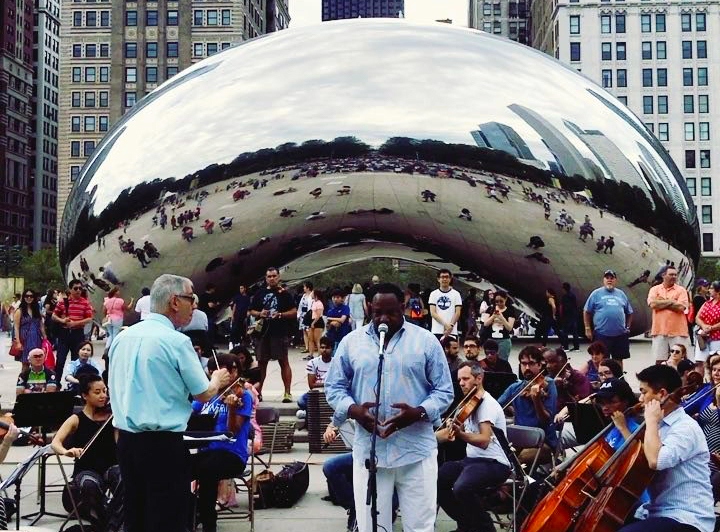 Eleven Chicago string quartets joined Make Music Day celebrations across the country on June 21st, 2017 for performances of Samuel Barber's Adagio for Strings and George Walker's Lyric for Strings. Quartets from Boston to St. Louis will performed two works simultaneously at 11:30am and 5:00pm CST. In Chicago, each quartet performed at a different location around the city in the morning before coming together for a collective performance in the evening at Cloudgate Plaza, Millennium Park.
Two American Pulitzer Prize-winning composers—one white and one black—Barber and Walker both used their artistic platform to tap into the broad range of emotions shared by humanity. By uniting these two works, Lift Every Voice seeks to memorialize victims of hate crimes while acknowledging that we are more united in our common humanity than we are differentiated by our race, ethnicity, gender, class or religion.
11:30am
Avalon Quartet
Garfield Park Conservatory, 300 N. Central Park Ave.
String Quartet from the musical Hamilton
30 W. Monroe
Chicago Philharmonic String Quartet
Fourth Presbyterian Church, 126 E. Chestnut St.
KAIA Quartet
WFMT Studios, 5400 St. Louis Ave.
Will be broadcast live on 98.7WFMT!
Chicago Sinfonietta String Quartet
Blue Cross Blue Shield of Illinois lobby, 300 E. Randolph St.
Merit School of Music String Quartet
Lincoln Park Zoo, 2001 N. Clark St.
Civic Orchestra of Chicago String Quartet
St. James Cathedral, 65 E. Huron St.
Picosa
Grace Central Church, 10216 Kitchner St.
Westchester, IL
Fulcrum Point New Music Project String Quartet (RSVP)
DePaul Concert Hall, 800 W. Belden Ave.
Roosevelt University CCPA String Quartet
Solti Garden, Jackson & Michigan
Volta String Quartet
International House, 1414 E. 59th St.
5:00pm
All groups, led by conductor James Setapen
including a performance of Patti Garvey's arrangement of J. Rosemund Johnson's "Lift Every Voice and Sing" by three-time Grammy Award-winning gospel singer Darius Brooks
Cloudgate Plaza, Millennium Park, Randolph & Michigan
YOUNG COMPOSERS CONTEST
In celebration of Make Music Day 2017, MakeMusic and the American Composers Forum held a composition contest for young composers, aged 13-21. The winning composer, Dakota Pedersen, received cash and other prizes as well as performances of his new work across the country as part of national Make Music Day celebrations on June 21st, 2017.
Dakota Pedersen is a self-taught young composer from Cedar Lake, Indiana. In his four years of composing, Dakota has seen world premieres with his high school band and with the NWI Youth Symphony Orchestra, with whom he currently plays clarinet and percussion. Dakota's piece for Make Music Day, Spring Dances depicts the feeling of his favorite season through exciting, dance-like melodies.
Windy City Winds
Washington Square Park, Chicago
June 21st, 2017
MCGUANE PARK
Bridgeport Community Talent
On June 21st, 2017, the McGuane Park Advisory Council (PAC) hosted a Make Music Chicago event for the third consecutive year. We are proud to be able to bring music into the Bridgeport community and to our park, which is mostly known for athletic activities. After a difficult first attempt, McGuane PAC was able to put together a lineup in 2016 that covered an eleven-hour span with acts ranging from Country to Blues to Classic Rock and even Cantonese Opera. After the success of last year's event, we have been able to expand our park's music events from only MMC to a four-week, Wednesday evening concert series culminating with a five-hour Make Music Chicago celebration.
Although the Bridgeport community is one rich with artistic talent, it rarely gets a chance to showcase its home-grown musicians within the neighborhood. McGuane PAC aims to use MMC as vehicle to highlight those musicians. Many of our performers last year who had been raised in the neighbor hood had either played sports or attended summer camps at McGuane and were excited to give back to a place that had been a big part of their youth.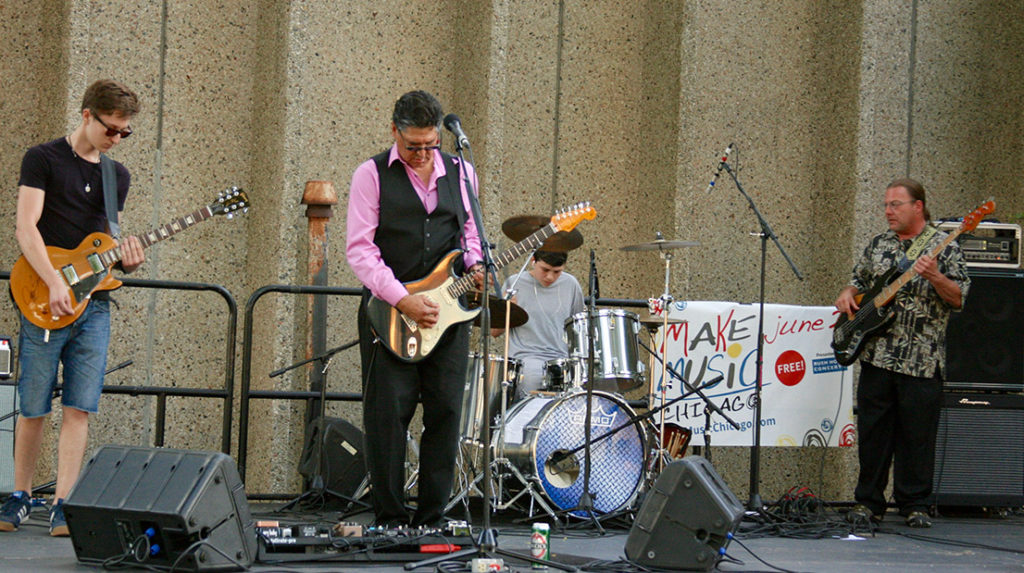 The 2017 Make Music Chicago concert at McGuane began at 4:00pm and lasted until the field house closed at 9:00pm. Bands played on our stage on the East side of the field house under a canopy of the park's majestic trees. There was seating in chairs in front of the stage as well as plenty of shaded space within the park to spread out a blanket, have a picnic dinner, and take in the wonderful music. Refreshments were also sold by the advisory council.
Located in the Bridgeport community, McGuane Park totals 20 acres and features an indoor swimming pool, two gymnasiums, an assembly hall, a kitchen and meeting rooms. Outside, the park offers baseball fields, an athletic field for soccer or football, tennis courts, an interactive water feature and a playground. The playground was renovated in Fall 2013 as part of the Chicago Plays! program. McGuane is located across the street from Stearn Quarry, now the Palmisano Park nature area. McGuane hosted a music series on Wednesday evenings for a month leading up to Make Music Chicago on June 21st.
DJS IN THE PARK
Taigo Onez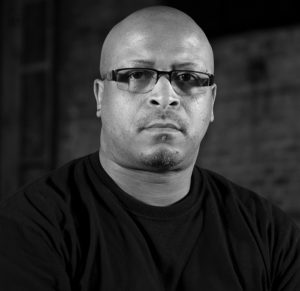 "My experience with Make Music Chicago has been so wonderful since the first year I joined the many curators and artists that contribute to such a fantastic yearly event. The staff has always been truly supportive, and always in good energy of our events. It's the one time of the year we as artists of all forms can come together and give back to the community. With the DJ Series that I curate, Make Music Chicago gives DJs the opportunity to be seen and heard all across the City of Chicago. We give opportunities to not just big name DJs in Chicago, but those that don't get a chance to be seen or heard on a regular basis. This is truly something special. The great element to this festival is that it takes place all over the city, filling Chicago with music for the entire day. So much fun for the entire family packed into a single day of great events to choose from.
My goal with the event is to have it expand to become something massive for the Underground Dance music community in Chicago that rivals other large scale events in major cities across the US and around the world. Our usual lineup consists of around 8 to 12 DJs from all forms of Dance music. As a collective we have pulled together some really talented DJs. And MMC has been the platform that has been open and accepting to every DJ/Artist we have had join us for the last 5+ years. Many of the DJs on our lineup have an international following, which has also helped to catapult what we do into larger audiences. Here's to a wonderful future of events with Make Music Chicago."
Santiago (Taigo) Onez, Hailing from the South Side of Chicago, Currently a General Manager, Resident Dj/Host of Bang Le' Dex on Germany's Cuebase-FM, Resident DJ/Host of Desired Frequency on Fnoob Techno Radio London, Co-Host of The Essence Radio Show at 88.5FM Whpk in Chicago, & Co-Owner A&R of Mind Burn Records Chicago. Taigo has release on the respective labels: UKR based out of Seattle & Portland, Mk Recordings based out of Linz, Austria, P&Z Records from the Netherlands, KRUNCH based in Chicago, Sub÷Divizion Detroit, and FORMAT Recordings Chicago. He is a long time Make Music Chicago participant and organizer of DJ's on the Midway and Hyde Park House Music Series.
In 2017, twelve DJs performed at the Petrillo Music Shell in Grant Park from 11:00am to 8:00pm on June 21st.
DAME MYRA HESS MEMORIAL CONCERT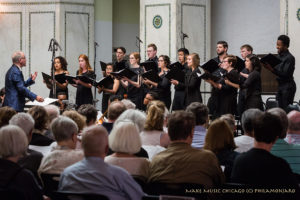 As part of Make Music Chicago 2017 on June 21st, the Grant Park Music Festival Chorus Director Christopher Bell led the Apprentice Chorale and Project Inclusion in a diverse program of works by Ola Gjeilo, John Bennet, Libby Larson, Mátyás Seiber, Louis Sauter, Joseph Kosma, and Cole Porter.
Both programs of the Grant Park Music Festival, the Apprentice Chorale is an advanced training program for pre-professional vocal students from DePaul University and the University of Illinois-Chicago, and Project Inclusion is a unique training opportunity for string players from diverse backgrounds traditionally underrepresented in the symphonic orchestral world.
The Dame Myra Hess Memorial Concerts are another program of the International Music Foundation, the presenting organization of Make Music Chicago. The Hess concerts are a free, lunch-time series featuring solo and ensemble performances that showcase emerging classical artists every Wednesday of the year. See the full season listing here.
Program:
Ola Gjeilo – Ubi Caritas
John Bennet – All creatures now
Libby Larson – Alaska Spring
Mátyás Seiber – Three Nonsense Songs
Louis Sauter – Laissez-Moi Mes Reves
Joseph Kosma / Mercer & Parsons – Autumn Leaves
Cole Porter, arr. Blackwell – Let's Do It
SYNAPSE ARTS
Rachel Damon
"We lovingly dubbed it the 'octopiano'. Four dancers knitted long swaths of ribbon with the piano at the center, almost as if the piano had grown arms. While music played, the dancers moved together, stretching the knitting to extend the pianos reach to the beach and surrounding fields. The freedom of playing music outside met the freedom of dancing, as we all watched the waves of Lake Michigan.
That performance took place in July of 2016, and it began a wonderful relationship between my company Synapse Arts and Make Music Chicago (MMC). It was when MMC placed one of their Pianos in the Parks at our home as Arts Partners in Residence at Loyola Park that I really started to look into them. The piano prompted conversations about how difficult it can be for apartment-dwellers to gain access to a full-sized instrument. The composer I work with was excited to have a chance to play it, and our project grew from that inspiration. It became clear to me that MMC and Synapse share the goal of making art radically accessible.
This year, MMC and Synapse co-presented performances that expanded on the fun we had in 2016. The 2017 project is called Weave Trees, and is a dance with grand textiles that hang from trees in Loyola Park. Viewers are invited to stroll through the seven dancers as they knit and swirl more than 2,000 feet of satin. The knitting connects the dancers to trees and one another, expressing connection and creativity. Live original music will be performed by composer/pianist Matthew Griffo and cellist Leyla I. Royale.
Site-specific performances have the power to alter our ideas about places we see every day during our commutes. MMC treats everywhere as a music venue, and Synapse sees everyplace as a dance venue. By taking traditional performance forms outside, we effectively remove physical and psychological barriers to the artwork. In this way, we can make any location more vibrant and beautiful, highlighting community and creativity."
Rachel Damon is a designer, choreographer and performer whose self-made career bridges onstage and backstage. She is the Artistic Director of Synapse Arts, and is also a Stage Manager at Blue Man Group and Adjunct Faculty member at The Dance Center Columbia College Chicago. Rachel loves to knit while watching action movies, and she eats dessert every day. Rachel and Synapse Arts presented four 30-minute performances of Weave Trees at Loyola Park as part of Make Music Chicago 2017 on June 21st, 2017.
SOUSAPALOOZA
Lynn Hojnacki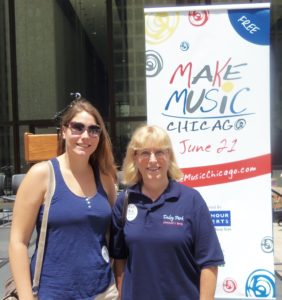 "I have totally enjoyed the opportunity to play Sousa marches at Sousapalooza! A few years ago the Tinley Park Community Band that I play in was contacted about this and now my fellow band members and I attend this event every year. It's really cool to play a concert on the Summer Solstice and feel connected to the other musicians that are performing next to me in Chicago and around the world at this global event. I've performed alongside my daughter, who is a music educator, my private lesson students, and the retired CSO principal clarinetist Larry Combs!"
Lynn Hojnacki is a musician who plays with many community bands, including the Tinley Park Community Band, the New Lennox Community Band and previously The Southwest Suburban Community Band. She teaches private lessons for clarinet and saxophone and joins MMC every year at Sousapalooza!
Sousapalooza is MMC's longest-standing and most popular play-along, where musicians of all levels can come play John Philip Sousa Marches alongside professional musicians. In 2017, Sousapalooza was part of an all-day program of performances and play-alongs held at Cloudgate Plaza in Millennium Park on June 21st.
THE GAUNTLET
Forte Chicago performed the Chicago premier of The Gauntlet at 11:45am at Preston Bradley Hall in the Chicago Cultural Center on June 21st, 2017. Composed by Sxip Shirey, The Gauntlet is a 15-minute interactive choral presentation where the audience is encouraged to walk between the singers. Forte Chicago is an ensemble of women who use comedy, spectacle, and improvisation to push the boundaries of operatic entertainment.
Ready to produce your own Make Music Chicago event?